Want to promote your event in the GGA calendar? Add Event

Rural Edge: National Farm Safety Workshop ACT – Online
March 20 @ 9:00 am

-

3:00 pm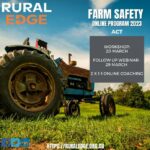 The workshop will be based on Federal legislation and will contain information about the nuances of each individual state's legislation. The workshops are tailored to the four largest agricultural industries in Australia: Broadacre, Horticulture, Viticulture and Livestock.
The program will be targeted at farm business owners and will result in the development of farm safety plans. Participants will set goals related to their farm safety plan at the initial workshop.
4 weeks' later a follow-up webinar is held to discuss progress on their goals and address any real-life scenarios or questions that have arisen. These first two elements are group based, building a community of peer learners who share and guide each other.
The final element is 2 x one-on-one farm safety online coaching sessions. The first session is eight weeks after the webinar and the second is eight weeks after that. These sessions provide individual farm safety advice and support to finalise the farm safety plans and complete an independent review of the actions taken to date.