Meet the WA Farm Data Sharing Project team
Dr Adam Sparks - DPIRD Senior Research Scientist
DPIRD Senior Research Scientist Adam Sparks is here to show you why. From a a PhD completed in midwestern U.S.A, to working at the International Potato Centre in Peru (CIP for short), Sparks delves into his long-spanning and colourful career in data analysis and modelling including his time studying potato late blight (scientifically known as the causation of the Great Potato Famine of the 1800s). Read more about the boy from humble dairy farming beginnings and why he's excited to bring growers like you modelling technology that will change your financial decision making for the better.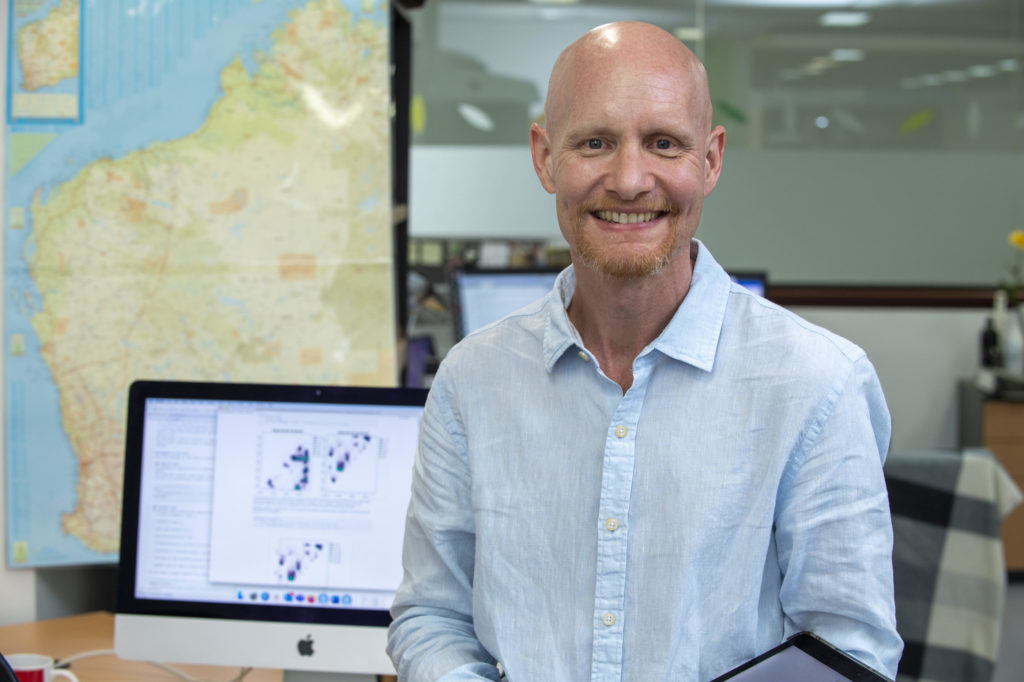 DPIRD Senior Research Scientist, Bioeconomic Modelling, Dr Adam Sparks

Field work failures and getting a foot in the door at the International Potato Centre:
How did you end up choosing a career in data modelling? 
Since I started my studies and career, I've progressively moved from agronomy to applied plant pathology to modelling to a data and modelling-centric type of job now with DPIRD but I certainly didn't start here. 
I didn't choose the data lifestyle, it chose me. During my PhD as I was working in plant disease epidemiology, I was also studying geographic information sciences. The idea was to identify areas of the state of Kansas that acted in a similar fashion in respect to disease occurrence and severity. In this case it was stripe (yellow) and leaf (brown) rust of wheat. Plant pathologists often joke that the quickest way to solve a disease problem is to study it. Of course, when I started deploying my research plots, the disease occurred but not in my plots, so I wasn't getting any meaningful data.
Luckily, I had a backup plan. Field work failure behind me, I turned to the lab. I had collected wheat crown rot disease samples from six parts of the state and georeferenced them. I had planned to investigate how related the fungus that causes the disease was across these areas. However, all my georeferenced isolates ended up with what are called "culture mites" in them. While they aren't harmful to humans, they make a mess of our work. In this case they moved from plate to plate taking the fungus with them so I couldn't tell which fungus came from what location! A bit of a problem in georeferencing.
Strangely the whole computer programming and coding work resonated with me much like the mechanical work I used to do on the farm.
Third time lucky? In the end I had the opportunity to work with the International Potato Center, known by its Spanish acronym, CIP, in Peru. This work was purely modelling, which involved working with geographic data layers, weather data and writing the models themselves. Strangely the whole computer programming and coding work resonated with me much like the mechanical work I used to do on the farm. The thinking that goes into how to build or fix something very similar, you just need to use a different set of tools to get the job done. In the end I ended up with global models of the effects of climate change on potato late blight (the disease that caused the Irish potato famine in the 1800s.) It was a great project that really opened my eyes to what was possible with data and modelling.
Not all would agree, though. During my PhD studies a mate who was studying a weed science degree was gathering data by spraying weed seedlings in the paddock to see how to kill them.  He once said  to me that he worked with "real data" unlike me as a modeller, who only worked with "made-up data." However, Mark Twain said, "Data is like garbage. You'd better know what you are going to do with it before you collect it." I never did check to see what he did with his "real" data, but my models might have been able to help!
Life as a boy showing livestock, to a scientist building models for more efficient agriculture practices:
How has growing up on a dairy farm influenced your career?
Partly because of the dairy farm, but largely because of my parents' support and encouragement, I had opportunities to be involved in agricultural extracurricular activities like 4H and FFA (high school vocational agriculture), which exposed me to activities like crops, soils, livestock and dairy judging, as well as showing my own animals in the show arena. This set me up well for a career in agriculture. It also taught me that I liked the crops side of the farm – so I gravitated to the world of plants. 
The rewards, challenges and learnings thus far of a Senior Research Scientist for the WA Farm Data Sharing Project
What are you most excited about with this project?
The ability to model a whole farm's finances has already been done successfully in the past with good success. The STEP (Simulated Transitional Economic Planning) model brought this to users in a spreadsheet. We now have larger, more diverse sets of data and better ways to bring them together with minimal effort to use them in simulations and generate planning strategies using more powerful computers and other technologies we didn't have previously that allow for the seamless and secure transfer of data. 
"No data is clean, but most is useful" – Dean Abbott
What do you foresee will be the greatest challenge?
Data. It's always the data. Even though we have ways of sharing it easily there will always be surprises in the data. Working with data for analysis and modelling is 80% cleaning or organising and 20% analysing or modelling, or as Dean Abbott said, "No data is clean, but most is useful", therefore I'm sure there will be unexpected surprises along the way once. For example, I may think I have a framework in place and pipeline worked out that works well and I'll get another new data source that just doesn't fit in what we've been doing so I'll have to rethink the process to accommodate integrating this new data to work with it.
What's been the response so far?
We've had a great response so far that's been overwhelmingly positive. Growers realise that their data has value and want to derive benefit from it and see this as a way that they can do that. They see great potential in tools like this.