Farmers urged to respond to WaterSmart Dams survey
Initial survey results from the WaterSmart Dams project show that since 2000 there are only three years on record where growers in south-west Australia have not faced operational challenges due to limited water supply.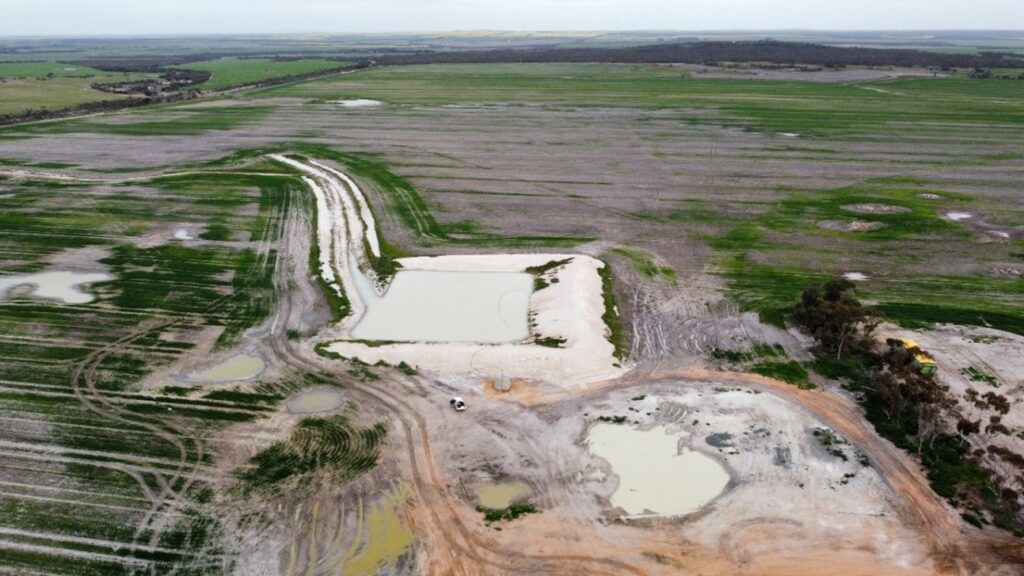 Caption: Full farm dams after the 2022 season, but challenges to have fit-for-purpose water with low turbidity. Image Roberto Lujan Rocha, UWA.
Water to get through the next dry season 
Growers are selling stock, carting water and reducing the volume of water used in their spray program to get through dry years.
The WaterSmart Dams project team is capturing information on how growers have been managing their water resources. Results so far show that insufficient water supply and poor water quality are having an economic and operational impact on farm businesses. However, the project team requires more information to refine project activities and interested growers are encouraged to participate in a survey which closes at the end of October.
The WaterSmart Dams project is part of the Australian Government's Future Drought Fund and is being executed by The University of WA (UWA), and the Department of Primary Industries and Regional Development (DPIRD), alongside South-West WA Drought Resilience Adoption and Innovation Hub project lead organisation – the Grower Group Alliance (GGA). Daniel Kidd, the GGA Program Manager for the project, says the team is trying to understand how poor water supply and quality are affecting growers in dry years and identify which water saving and capture methods are already being adopted beyond reliance on traditional dams and catchments in paddocks.
Project Technical Lead Associate Professor Nik Callow, from the Centre for Water and Spatial Science at the University of Western Australia (UWA), said the initial results showed that 93 per cent of growers surveyed so far have invested in improving water supply or quality in the last decade.
"It is clear that growers are investing in improving their water supply and reliability," he said.

"There is a lot to learn from how growers are adapting to more challenging conditions and are getting enough water which is fit-for-purpose water."
DPIRD Senior Principal Research Scientist Dr Richard George identified that the most common investment had been cleaning out existing dams.
"Design and maintenance of high runoff roaded catchments is another important area, but we are also seeing growers start to innovate with things like high-density polyethylene (HDPE) plastic catchments and lined dams, and installing groundwater desalination units," Dr George said.
The survey also indicates that growers are seeking better information on cleaning out dams and stopping leaky dams, and are looking for opportunities to view demonstration sites that showcase HDPE plastic catchments and efficient and well-maintained roaded catchments.
Another trend noted among survey participants was the rejuvenation of existing dams or building larger dams with a capacity of more than 20 ML to get through the drier years.
Other growers are interested in options to reduce water evaporation across the long dry summer, so that they have enough water for the next season's spray program.
Water quality is another major concern, with many growers forced to use low-quality and high-turbidity water that compromise the efficacy of chemical application.
Research scientist Roberto Lujan Rocha from the Australian Herbicide Resistance Initiative (AHRI) at UWA found significant variability in the water quality available for livestock and spraying in recent samples taken across south-west WA.
He said that while 2022 had been a good year and all the dams he visited were full, many growers were struggling to find high quality and low-turbidity water to run their farm businesses.
"High turbidity water and other elements can be a real challenge for the efficacy of spraying and herbicide action," he said.

 Caption: Variability in farm water samples collected as part of the WaterSmart Dams project. Image Roberto Lujan Rocha, UWA
A key focus of the next phase of the WaterSmart Dams project is working with the four regional grower group partners: Compass Agricultural Alliance, Southern Dirt, Merredin & Districts Farm Improvement Group and Fitzgerald Biosphere Group. Results from the survey will further help to identify suitable demonstration sites to showcase best practice water saving and catchment methods for growers.
Complete the survey by 31 October 2022
The WaterSmart Dam project team wants to know your water management priorities. The survey is open until October 31 and can be accessed by phone scanning the QR code below or via link here.