Established in 2002 to develop the capacity of groups and stronger connections between Western Australian grower groups, researchers, funding bodies and industry, today the GGA is a thriving state-wide network of over 60 local grower groups with a collective membership exceeding 4,000 farm enterprises.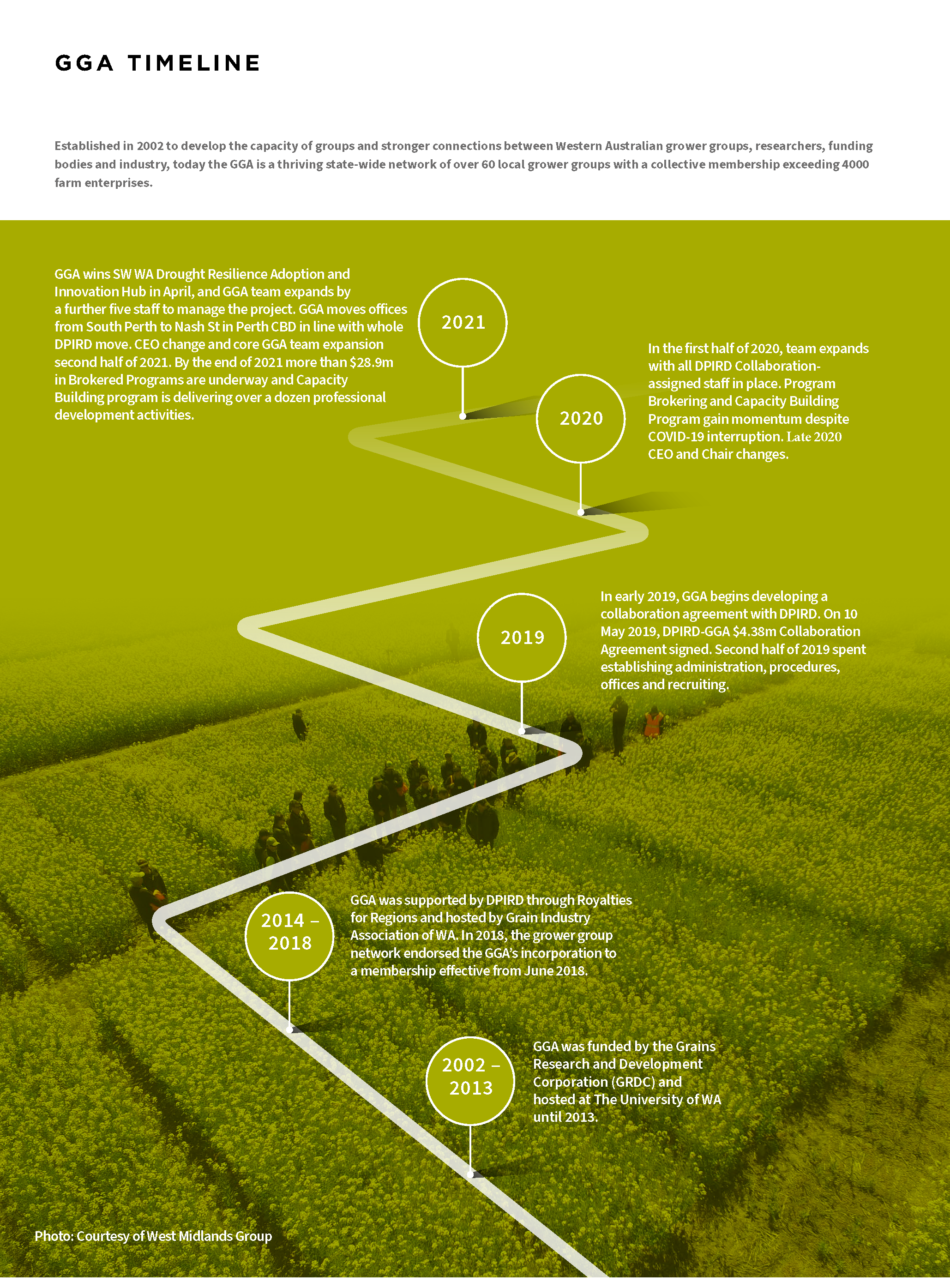 Timeline Snapshots
2002 – 2013
From 2002 – 2013, GGA was funded by the Grains Research & Development Corporation (GRDC) and hosted by the University of Western Australia (UWA). Grower groups were bound informally together as a Project with stakeholders mainly from the grains sector.
2014 -2019
From 2014 onwards GGA was funded by the WA Department of Primary Industries & Regional Development (DPIRD) and hosted by the Grain Industry Association of Western Australia (GIWA).
2019
In 2019, GGA entered a four year $4.38 million, performance based Collaboration Agreement with DPIRD. This watershed agreement aims to lift the overall investment in demand driven and farmer-led applied agricultural research via grower groups and based on the WA context and environment.
As part of the agreement, GGA Management team was empowered with an expansion from 2 to 7 personnel with 5 DPIRD staff allocated to GGA as part of the Collaboration.

2018
In 2018, GGA became an incorporated not-for-profit association governed by a Board and a formal  membership was introduced.
2021
By 2021, $7 million in collaborative R,D&E Brokered Programs have been executed with the GGA Network and a further $11 million in the pipeline. Strong engagement with GGA's Capacity Building program is taking place.
By early 2021, the GGA Network has strengthened from a traditional base of 43 grower groups to over 60, with membership expansion coming from the beef and horticulture sectors contributing valued diversity, producer expertise, stakeholder visibility and cross sector links.
In April 2021, backed by a substantial industry Consortia pledging co-funding support of over $12 million, GGA wins an $8 million (over 4 years) tender to become the lead organisation for the SW WA Drought Adoption and Innovation Hub. This is a ground breaking new nationwide collaborative model and the centrepiece of the Federal Future Drought Fund. GGA is the only non-university institution to be leading a Hub out of all 8 Hubs across Australia.  
In June 2021, GGA launches a pilot program to develop a Benchmark & Build program for its Grower Group members. This project aims to systematically identify capacity building needs of grower groups, potential operational and business model risks for groups as well as hilight engagement and performance metrics achievements of groups.
June, 2021 the GGA office relocates from South Perth to the CBD. Under the DPIRD-GGA Collaboration agreement, GGA is supported with office accomodation and GGA moves along with the entire DPIRD out of legacy premisis at South Perth due to increasing OH&S complications.  With the GGA team now centrally embedded amongst DPIRD operational staff in an open plan office format, the move has immediate upside with improved communication links and easy access to key DPRID operational personell.
During July 2021 the GGA staff team expands from six to fourteen staff. This is brought about with onboarding of the new Drought Hub team and further appointment of all staff resources provided under the DPIRD-GGA Collaboration agreement. During this time there is also a GGA CEO change.