Established in 2002 to develop the capacity of groups and stronger connections between Western Australian grower groups, researchers, funding bodies and industry, today the GGA is a thriving state-wide network of over 60 local grower groups with a collective membership exceeding 4,000 farm enterprises.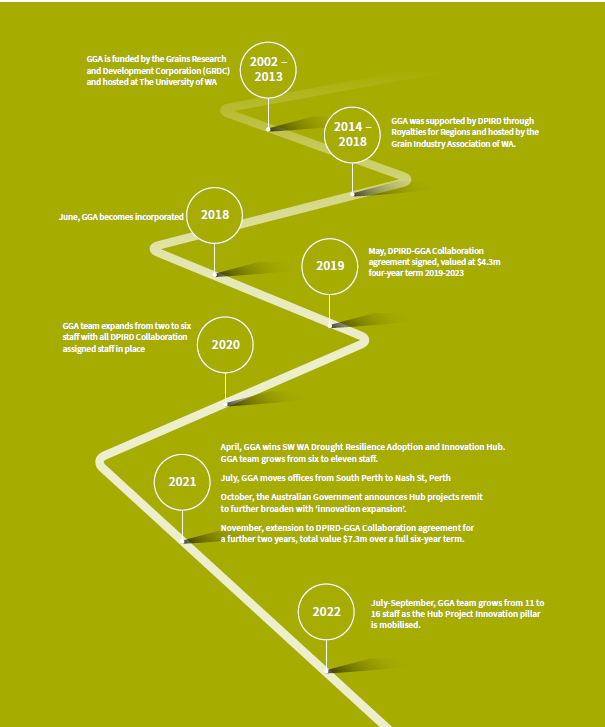 Timeline Snapshots
2002 – 2013
GGA is funded by the Grains Research and Development Corporation (GRDC) and hosted at The University of WA.
2014 -2018
GGA was supported by DPIRD through Royalties for Regions and hosted by the Grain Industry Association of WA.
2018
June, GGA becomes incorporated.
2019
May, DPIRD-GGA Collaboration agreement signed, valued at $4.3m four-year term 2019-2023. 
2020
GGA team expands from two to six staff with all DPIRD Collaboration assigned staff in place.
2021
April, GGA wins SW WA Drought Resilience Adoption and Innovation Hub. GGA team grows from six to eleven staff.
July, GGA moves offices from South Perth to Nash St, Perth.
October, the Australian Government announces Hub projects remit to further broaden with 'innovation expansion'.
November, extension to DPIRD-GGA Collaboration agreement for a further two years, total value $7.3m over a full six-year term.
2022
July-September, GGA team grows from 11 to 16 staff as the Hub Project Innovation pillar is mobilised.