In April 2021, the Grower Group Alliance was awarded a major $8 million tender to lead the South-West WA Drought Resilience Adoption and Innovation Hub (SW WA Hub) which will run over the next four years to June 2024.
In October 2021, the Australian Government announced additional funding for Australia's eight Drought Resilience Adoption and Innovation Hubs, including $2.5m for the SW WA Hub. This expands the remit of the Hubs from being just drought focused to agricultural innovation more broadly. However, drought resilience remains a core focus for the Hubs.

Australia's Drought Resilience Adoption and Innovation Hubs are part of the Australian Government's $5 billion Future Drought Fund. They will provide networks for researchers, primary producers, community groups and others to work together to enhance drought resilient practices within their region. This focus on collaboration will make agricultural research useful and accessible, increasing innovation and commercialisation opportunities.
The SW WA Hub is set to transform the way farmers and communities prepare for and respond to drought. It has strong support from all segments of the WA supply chain and SW WA Hub partners are providing significant co-contributions. GGA is the only non-university lead out of all eight hubs across Australia.
---

---
Hub Operations Team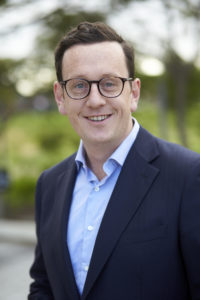 Tom Davidson – Hub Director
Tanya Kilminster – Hub Knowledge Broker
Annabelle Bushell – Hub Business Development Manager
Natalie Lee – Hub Stakeholder & Communications Manager
Kellie-Jane (KJ) Pritchard – Hub Project Manager
Sharon Keeler – Hub Team Assistant
Contact us at swwadroughthub@gga.org.au
Hub Geographical Area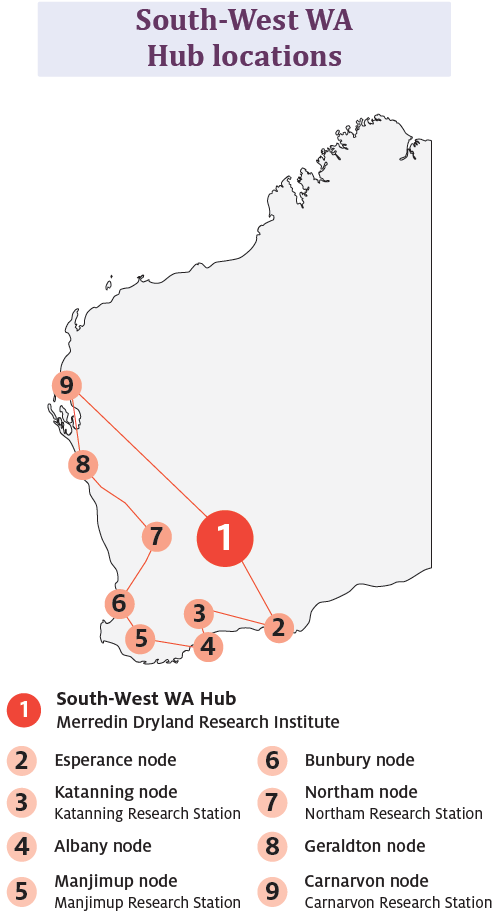 The geographical area of the SW WA Hub extends far beyond what many Western Australians know as our South West region. Within this national project, the Hubs are organised into regional areas that broadly reflect the key agricultural and climatic zones across the country. The SW WA hub is essentially everything south of the Pilbara, and includes what those in the agricultural industry know as the entire southern agricultural growing region of WA. Read more within the SWWA Hub Factsheet.

Key industries and commodities
The WA agricultural industry is highly successful, exporting more than $7 billion annually, or more than 80 per cent of production. Key industries include:
Grain
Sheep
Beef
Dairy
Viticulture
Horticulture
National Hubs at a Glance
The eight Drought Resilience Adoption and Innovation Hubs are:
Each Hub will service a broad area and will respond to the needs and opportunities in their region. A hub and spoke model will see drought resilience shopfronts across every region.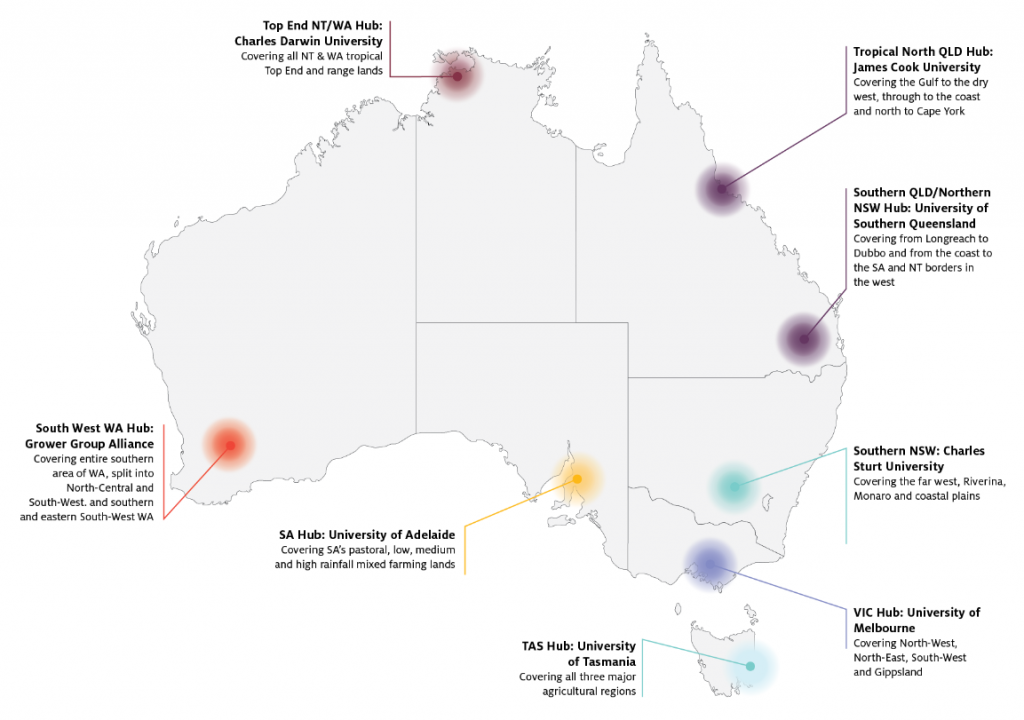 SW WA Climate Context
Extract from BOM State of the Climate Report 2020: The drying trend in southern Australia has been most evident in the southwest and southeast of the country. Rainfall analyses in these regions can be extended back to around 1890 due to greater data coverage, enabling current droughts to be compared to historical droughts such as the Federation drought (1895 to 1902). The recent drying across these regions is the most sustained large-scale change in observed rainfall since the late 1880s.
The trend is particularly strong for the period from May to July over southwest Western Australia, with rainfall since 1970 around 20 per cent less than the average from 1900 to 1969. Since 2000, this decline has increased to around 28 per cent.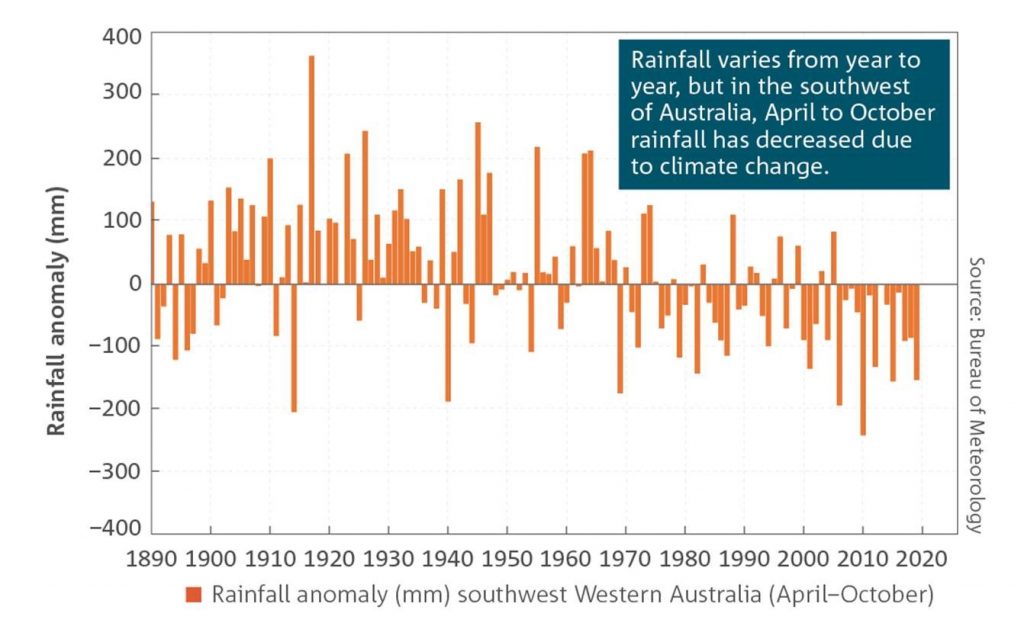 FAQ
GGA will engage with stakeholders as the Hub takes shape. Meanwhile, FAQ may be answered at these sites or in the media releases further below on this page:
* Australian Government – Drought Resilience Research and Adoption Program
* Subscribe to "Have Your Say" the main Federal engagement point for Hub activity
* Read the Future Drought Fund Annual Report 2020-21, that details the achievements of the Fund in its foundational year.
Tenders
Tender No.1| Applications have now closed |South-West WA Primary Industries & Farming Systems – Situation Analysis. Details here
Diary Dates and past events
Tuesday 14 December | 7:30am – 8:30am AWT | FDF Drought Resilient Soils and Landscapes webinar ($23 million in grants)
Applications are open for the $23 million Drought Resilient Soils and Landscapes grant program. The program will fund projects that demonstrate land management practices that support the drought resilience of Australian agriculture through the Australian Government's Future Drought Fund. The competitive grants process is open until 11 January 2022. To learn more about the program and how to submit your best application, register for the Drought Resilient Soils and Landscapes webinar | Register here. For more about the Future Drought Fund and its programs, visit www.awe.gov.au/fdf
June 29 to July 1 2021 | FDF Drought Resilience Science to Practice Innovation Forum
The first annual nationwide flagship event for the Drought Adoption and Innovation Hubs; 'Science to Practice Forum- Building the Foundations of Drought Resilience ', ran over three days in the last week of June. Most formal sessions took place from a central location in Canberra with the Future Drought Fund team supplemented with a physical presence in each of the eight regional Hubs. GGA hosted a SWWA Hub component from the Merredin Dryland Research Institute. Click through here for a debrief of the event and to access presenter recordings.
May 19 | GGA Hub Consortia Information Forum
First information update on federal plans and local status of GGA activities during the development phase.
Download presentation by Graham Smith – GGA Interim Hub Director
Farm Weekly News Story
GGA Hub Steering Committee
GGA has a steering committee to oversee the SW WA Hub project governance. This comprises two GGA representatives and two industry representatives chosen for their experience and broad understanding of the WA agricultural context.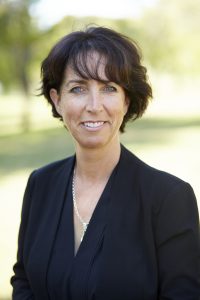 Media Releases
11 October 2021 – Australian Government Media Release – Agricultural Innovation Statement released
7 October 2021 – GGA Media Release – GGA welcomes significant expansion of South-West WA Drought Hub
6 October 2021 – Australian Government Media Release – South-West WA Drought Hub to broaden its focus
6 October 2021 – Australian Government Media Release – Drought Hubs to broaden their focus
19 August 2021 – GGA Media Release – GGA appoints Director to Drought Resilience Adoption and Innovation Hub
19 April – Australian Government Media Release 2 – More Information on Program
16 April – GGA Media Release 1 – GGA to lead SW WA Hub
16 April Australian Government Media Release 1 – GGA wins SW WA Hub