Aims
The GGA Grower Group Benchmark App aims to establish a diagnostic process to gather baseline, then yearly data to measure the functionality, systems, processes, governance and development needs of grower groups in WA.

This data will be utilised by groups and the GGA to support groups to be fit, strong and sustainable, by delivering training and development in a systematic, strategic way.
Over almost two years GGA worked with six grower groups to test and build the app. The app has been fully developed and is now live for use by GGA voting member grower groups.
To access the app, eligible grower groups must be logged into the GGA website to access the restricted resources section of the GGA website. Here, members are supported with tutorials on how to login and how to use the benchmarking app.
Project Phases
Phase 1 – SEPWA, Facey Group and LIEBE were involved in Phase 1 pilot from June – September 2021 testing the prototype diagnostic process.

Phase 2 – WMG, ASHEEP and Stirlings to Coast Farmers were involved in Phase 2 to more rigorously test the process and gather more data to inform the development of a digital tool app.
Launch – the finished app was launched at the 2022 AGM for use by the voting grower groups of the GGA network.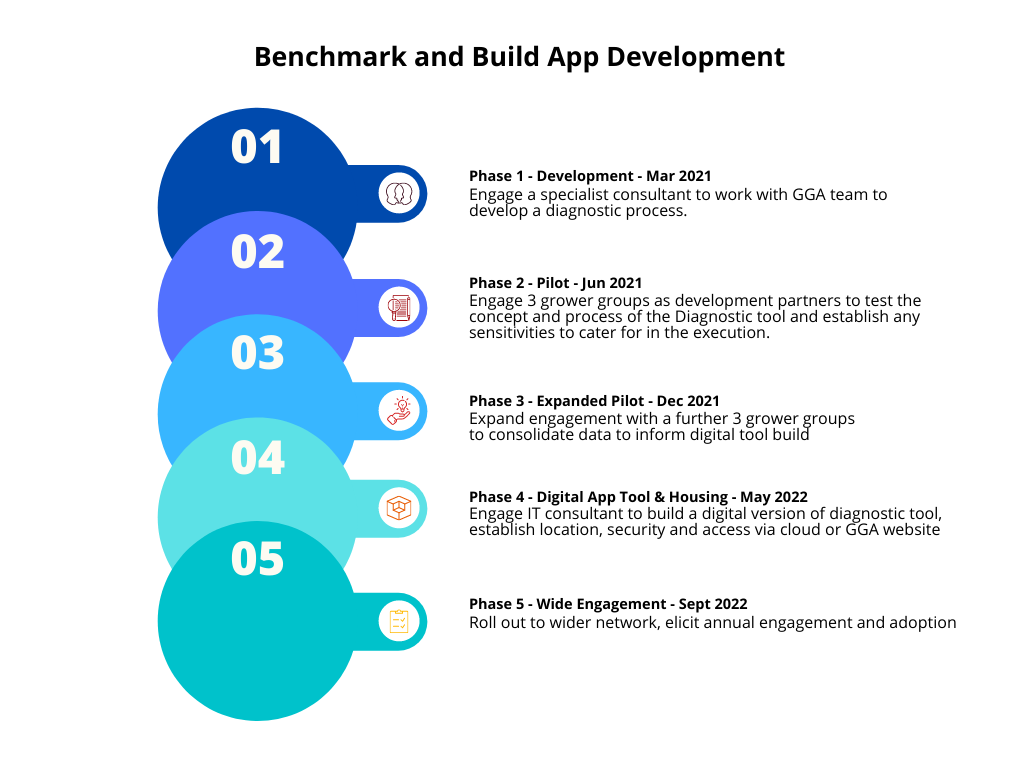 Benefits
Grower Group level
Grower groups operate independently and are typically governed by members who have experience limited to their own grower group. Without relativity, it is difficult to gauge performance. The Benchmark and Build program will enable grower groups to compare operations year on year to others – identifying areas of concern, areas of high performance and assist members to better self-direct their grower group.
GGA level
One of the three key strategic pillars of the GGA is to Develop the Capacity of the Grower Group Network. Capturing trends through the Benchmark and Build program will enable systemic identification of where capacity development is required and enable the GGA to improve its own performance supporting grower group capacity gaps.
Industry level
GGA believes grower groups will increasingly become the primary vehicle for delivering locally relevant Research, Development and Extension activities and the unique, well connected GGA grower group network is viewed nationally as a model with high potential. It is in the industry's best interests to not only deliver quality RD&E but also building capacity for WA grower groups and substantiating this at a macro level through year on year anonymised data will build confidence in the WA grower group network underpinning further innovation investment.
GGA Contact
Enquiries to Kallista Bolton at GGA.
---
Pilot Project Collaborators