Do you have an idea to make your business more drought resilient?
Grants valued between $2,000 and $10,000 are available to growers ready to take a paddock idea to the R&D phase.
Ideas and innovation to improve efficiency and process often come from those doing the 'doing'. However, there is a gap that arises between an idea coined on the job and developing a product, practice or process.

This pilot grant round offered by GGA and CSIRO is designed to close the gap.
The objective of the 'Emerge Program' small grants round is to facilitate the development of ideas that will help WA farmers and the agri-food sector prosper in hotter and more variable climates and build greater resilience to more frequent seasonal droughts.
Our mission is to foster small cohorts of agricultural thinkers by helping them enter the innovation ecosystem.
The grant round includes support from experts at CSIRO and GGA to make the jump from producer to developer more accessible.
Grant Guidelines
There are many existing programs in Australia for ideas that are ready to commence a structured commercialisation process. However, many ideas aren't developed to the point where they are ready to commence that process. The 'Emerge Program' is designed to support new ideas, especially from farmers who have little experience with the innovation ecosystem.
The 'Emerge Program' is not a commercialisation program. It is an innovation preparation phase, where the focus is about identifying potential and further developing ideas to the stage where they are ready for research, development, and commercialisation.
IP Statement
For applicants to fully participate in the Emerge Program, we want to encourage you to freely share any ideas you may have with the Grower Group Alliance (GGA) and CSIRO. We understand you may have an idea that is considered confidential and needs protecting. All confidential information you disclose in connection with the Emerge Program is strictly confidential. GGA and CSIRO must treat all confidential information as owned by you and must not, without the prior written consent from you, disclose or permit the confidential information to be disclosed to any third party. Any confidential information you disclose will be reviewed by GGA and shared with the management committee of the Emerge Program for project learning and improvement purposes only. Confidential information will be kept confidential for a period of 5 years commencing on the date you submit your application for the Emerge Program. If you own any intellectual property that is shared in connection with the Emerge Program, you will continue to be the owner of your intellectual property. By participating in the Emerge Program, you do not grant a licence (or a sublicence) to GGA or CSIRO to use, reproduce, publish, adapt or exploit your intellectual property.
Timeline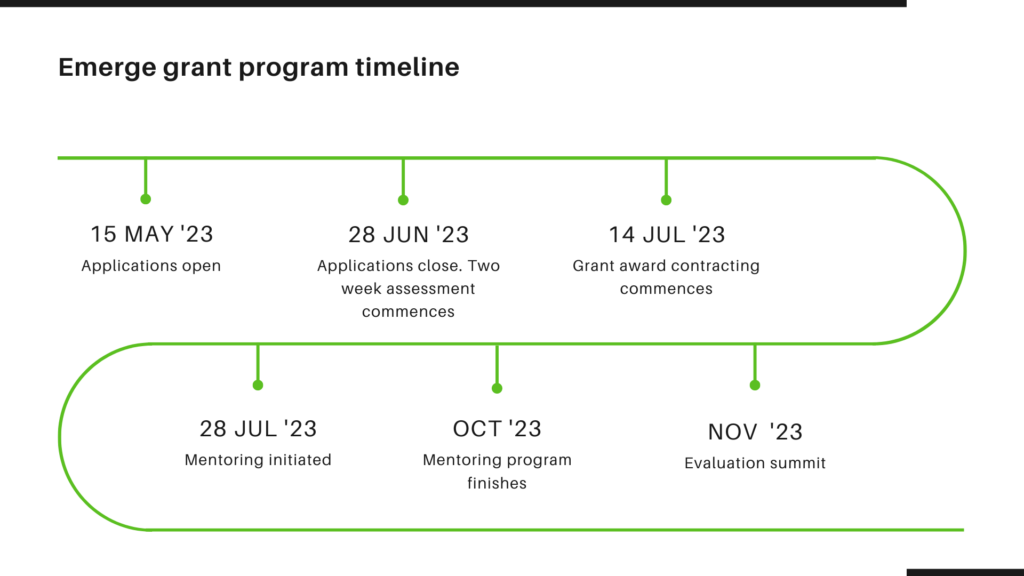 Submission criteria
There is no one-size-fits-all process to nurturing a successful idea, but your application will be assessed on how targeted your idea is towards providing a solution to drought that is likely to be adopted. No capital infrastructure will be funded.
Formal contracting arrangements will be made with grant recipients. Refer to the Program Criteria below.

Grant application form
Submit your grant application via the below digital grant form by June 28, 5pm (AWST).
You will need to be ready to enter information about your idea so we recommend you review the form questions prior to data entry.
PLEASE NOTE, THIS FORM DOES NOT SAVE AS YOU GO. DOWNLOAD THE GRANT GUIDELINES DOCUMENT (ABOVE). THE APPLICATION QUESTIONS ARE PROVIDED IN APPENDIX 1 FOR YOU TO FILL IN AT YOUR LEISURE AND THEN COPY AND PASTE INTO THE CORRESPONDING FIELDS WHEN YOU'RE HAPPY WITH THE FINAL WORDING.
News
GGA Innovation Manager, Dr Jo Wisdom talks to ABC rural and resources reporter, Hayden Smith on the Northern WA Rural Report. Listen here.
Project Shortcuts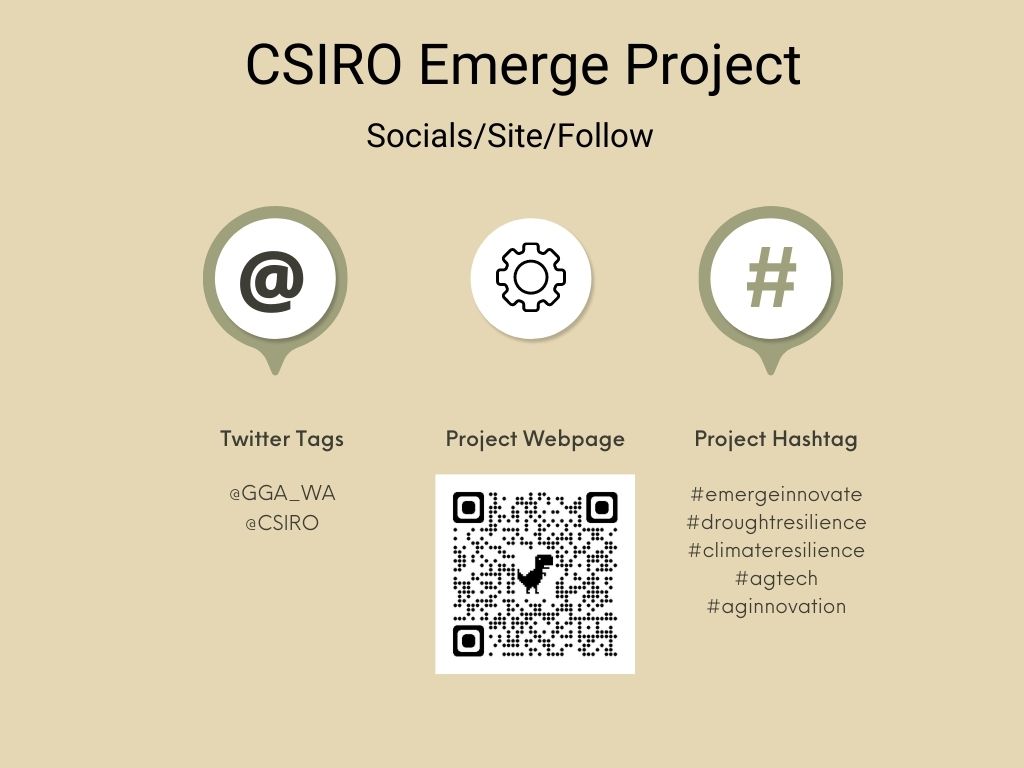 Contact
Enquiries to Joanne Wisdom at GGA
---
Collaborators
---