On-farm Trials Resource Guide
The GGA has put together a series of resources to assist grower groups and growers in planning, running, analysing and communicating their on-farm research trials. The GGA gratefully acknowledges the input and support of Roger Lawes, Senior Research Scientist, CSIRO, in developing this information and providing training and support to grower groups.
Information on on-farm trials, available in an easy accessible place, was identified to be important to the GGA network. It aims to enhance grower groups' capacity to question what trials they run and conduct the trials rigorously to effectively address the groups' needs. It doesn't not however, replace working with trained scientists and statisticians in creating complex trials.
A properly run and executed trial can be informative, while a poorly run trial can give misleading results that if implemented on farm could be costly. It is important to understand all aspects of carrying out an on-farm trial to ensure it is successful and generates useful results. The GGA has also included a basic overview of project extension methods to ensure your well planned on-farm trial is effectively communicated to the target audience.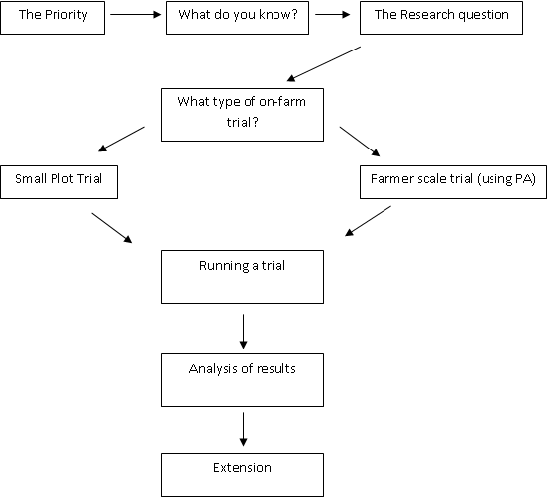 Contents
Planning your trial
When planning an on-farm trial, it is important to identify why you want to do the trial (priorities and research question), what outcome(s) you want to get out of it (i.e. change in management practices etc), how you will measure these outcomes, and who you want to communicate it to. The plan is the most important part of a well executed trial – everything will fall into place if you have this.
Set the priority (what topic do you want to research? Does the trial contribute towards the groups goals?)
There are many issues that have an impact on farm profitability, but determining which of these issues will be the main priority(s) for a grower group or individual grower is often difficult. It is also important to set priorities to avoid trying to test too many 'ideas' in the one on-farm trial.
In the case of a grower group it is essential to assess 'ideas' and set priorities according to how it meets the goals of the group that are relevant for the members.
What do you know? (What information do you already know about this issue? Do you need to do a trial to answer the question? Have you looked a relevant literature or previous trial results? Checked with GGA to see if other groups have done similar trials?)
The research question (Decide on a question that you want to ask – the what, how, when, or where)
Defining the initial research question is most critical part of the trial process and it is important to recognise that the development of a 'good' research question takes time. Start with the general research issue, then progresses through the initial thoughts and ideas to find the final research question(s) – what you really want to find out.
Avoid including too much in the research question. Focus on the issue and the variable of interest (eg Nitrogen).
Break down your statement into specific questions.
What constitutes 'a yield improvement' e.g. More grain yield, more biomass, better plant establishment, greener leaves, more tillers, fewer head deaths?
What aspects of the environment are we talking about? e.g. Season type? Soil Type? Crop Type? Time of Sowing? Stubble treatment?
What time period are we talking about? Only wet years, only dry years, every year?
For more information on developing a research question, click on the following resources;
How to trial it/trial design (What sort of trial will best test the research question – Small plot trial, farmer scale, precision agriculture? How do you build in scientific rigour and ensure a true test? What do you need to measure?)
Trial design is complex, and it's important to find the right balance between relevance and scientific rigor. If you are unsure, seek further advice, rather than persisting with a trial that may not answer your questions.
Levels of testing
On-farm testing can be carried out at different levels of sophistication from paddock scale comparisons to replicated small plot trials. Both designs require a clear research question and thought. A small plot trial allows you to make a more detailed diagnosis of why you found differences between treatments by being able to measure attributes such as soil water balances, plot level nutrients, disease status and more. In paddock scale trials, you can technically still measure these things, but it would take a lot of work, hence why you may often place more confidence in the outcome of a small plot trials over paddock scale.
Treatments
Important to make sure the effect of the treatments that you observe are really due to the treatment and not sue to another factor (i.e. soil fertility, weeds, environmental etc.).
Control Variables: To get valid comparisons it's important to identify the control variables within the trial. For example you should control these factors unless they are one of your testable treatments;

Use the same soil type in the same paddock
Use the same varieties
Use the same fertilizer at the same rate
Use the same herbicides
Plant at the same time
Use the same tillage

Ensure you maintain a control plot: A control is just like another treatment. It is your reference point to compare everything else too. A control could be standard management practice, but if you are conducting a fertiliser trial it is often a 'nil' or zero application of fertiliser treatment.
Apply treatments that are actually going to make a difference. Large measurable differences make it easier to determine a statistically significant result.
Site Selection
Site must be as uniform as possible
Site should accurately represent a typical environment, to ensure relevance of the trial
Choose a site with properties that won't affect your research question, and conduct soil testing to find out more. For example, don't run a liming trial on a site with adequate pH levels, or look at yield differences in a weedy site which can outcompete the crop.
Orientation of trial and treatment placement
Small plot trial should run across a source of variation, not up and down it.
Replication –Doing things several times gives people more confidence. More replication provides a better estimate of the variability and provides more confidence in the measured outcomes (Laurance et al 2004).
Randomisation –Randomly allocating treatments to the trial design gives the treatments an equal chance, and avoids biasing the results by any underlying trends in the environment (Laurance et al 2004).
Blocking – Blocking is used to reduce the experimental error and account for suspected trends, like increasing fertility, across trial sites. Blocking reduces the experimental error by ensuring each rep of each treatment is compared at similar positions across the suspected trend.
For more information on trial layout, or for example plot designs, click on the following resources;
Treatments
In on-farm experiments, where treatments must fit in with a commercial operation, it's recommended to restrict the number of treatments to just one or two at most. The remainder of the paddock should be thought of as a control (Lawes, 2010). You may get a clearer answer to your research question if you use fewer rather than more treatments.
Site Selection
Site must be as uniform as possible
Site should accurately represent a typical environment, to ensure relevance of the trial
Use previous yield maps, soil testing, or other methods such as gamma ray or EM38 to understand variation across the paddock, and plan your trial accordingly.
Avoid areas that may affect yield (fence lines, trees, headlands)
Orientation of trial and treatment placement
Farmers who have been yield mapping are able to identify the different yielding zones within a paddock. These zones may respond differently to the same treatment, so it's important to orient a trial across the zones to reduce experimental error (Lawes, 2010).
All treatments should orient in the same direction.
Each treatment should occupy at least two seeder bar widths
The control strip is often the rest of the paddock that gets standard, farmer practice.
Trial design using Precision Agriculture (PA)
The use of PA for on-farm trials offers two main benefits; accuracy is increased and complex, whole paddock trials are established with minimum effort (Department of Agriculture and Food WA).
Turning ideas into practice – Click here to view a worked example. 
Running a Trial
It is important when running an on-farm trial that the appropriate site is selected, roles and responsibilities are set for those involved, the right tools and equipment required to manage the trials are available, and all data is collected and recorded.
Trial management (who does what, when; and what are the agreements for site use, labour and management?)
The GGA and member groups have developed a set of guidelines/checklist for groups to follow when running a trial.
How often do you need to talk to the group, host farmer and trial owner? Is it regular enough? Is the communication two-way?
Are there any financial or in-kind expectations of the trial coordinator and the group? (Trial costs, labour, data collection and analysis, extension and communication.) Have these been put down in writing?
What are the ownership obligations of the trial results? Who gets access to them, the group only or the entire agricultural community? Is there an agreement in place for when results are not favourable to the trial owner?
Who does what?

Who is responsible for trial design, site selection and set-up? What level of rigour does the trial have? Is there a buffer zone required, and who is responsible for this? What are the expectations for biosecurity or weed control? Are these instructions as clear as possible?
What equipment is needed for the trial, and who will get it/set it up? I.e. Fencing, seeders, sprayers, trial markers, mouldboard ploughs, fuel, chemical etc.
Who is responsible for monitoring and harvesting the trial? Are clear instructions in place for this?
Who is responsible for analysing results? Have they been involved from the beginning with trial design?

When visiting the group or farmer during the year, is there a process in place? For example:

Who will contact the farmer prior to visiting?
Is there help on hand to set up the trial for presentation (markers, banners etc.)?

Has the trial owner/coordinator been invited to the group's events and field days?
For more information click to view the GGA Trial Checklist.
Collecting data (what needs to be collected/measured? What resources do you need to do this?)
Soil testing, seeding, spraying, harvesting (employ a contractor? Use farmer time and resources?)
Site monitoring and crop cards
Weigh trailers, sample bags – if your group doesn't have access to a weigh trailer, contact your local DPIRD office. 
Analysis and Interpretation of Results
Analysis of results and interpretation in relation to the initial research question(s) is important as it gives a purpose to why you have done the trial – you will have found out whether or not your question was supported, or whether it needs further research. There are many options available for analysing trial results; do it yourself using programs such as excel or GenStat, use the assistance of a more qualified project partner, contract a specialist statistician or utilise your local DPIRD office.
What are the results and what do they mean? Have the results answered the research question?
How do you determine this? Stats!
However, training is required to be able to run statistics and interpret your results. Work with a local DPIRD staff member (preferably the one you worked with on trial design) to ensure you understand the results and significance of results, from the trial. Alternatively, project or group partners such as private consultants and CSIRO have the expertise to help analyse and interpret your trial results.
DPIRD statisticians are very willing to work with groups on relevant projects right from the planning stage through to analysis of results. For more information or assistance contact Andrew Van Burgel, T: 9892 8550, E: andrew.vanburgel@agric.wa.gov.au
Contacts of other researchers available for grower groups;
Tim Scanlon, DPIRD
Roger Lawes, CSIRO 
Extension
Did you learn something from your trial? Make sure you share the results with your group and the wider community. For a background in extension, visit the GGA Quick & Easy Extension Guide.