Fill technical agronomy knowledge gaps with affordable access to Planfarms Agronomy of Farming Short Course training course.
Partnering with GGA, Planfarm is offering a 50 percent discount for staff (only) from GGA Network groups to enrol in Planfarm's renowned Agronomy of Farming Short Course before July 31.

The course supports grower groups to fill technical knowledge gaps for their staff working in the broadacre agricultural context that have not had any formal agriculture training.


Cost – 50% off
Course RRP is $880 per person, and using the Planfarm 50 percent discount brings the cost down to $440.
There is no cap on the number of staff that can utilise the Planfarm coupon code.
Background
This offer is in response recent GGA annual Capacity Building Survey which showed groups are seeking support for agronomy training for their staff.

As an established learning platform, the Planfarm Academy courses come highly recommended within the WA agriculture industry. The Agronomy of Farming Short Course is ideal for those with no formal agricultural or science training.
Curriculum – 3 hours
Taking approximately three hours to complete, the video module component of the course is made up of 12 self-paced modules of 20 mins each. The independent learning modules are supplemented with recordings of past 'tutorial' style discussion sessions designed to review the material and address any knowledge gaps.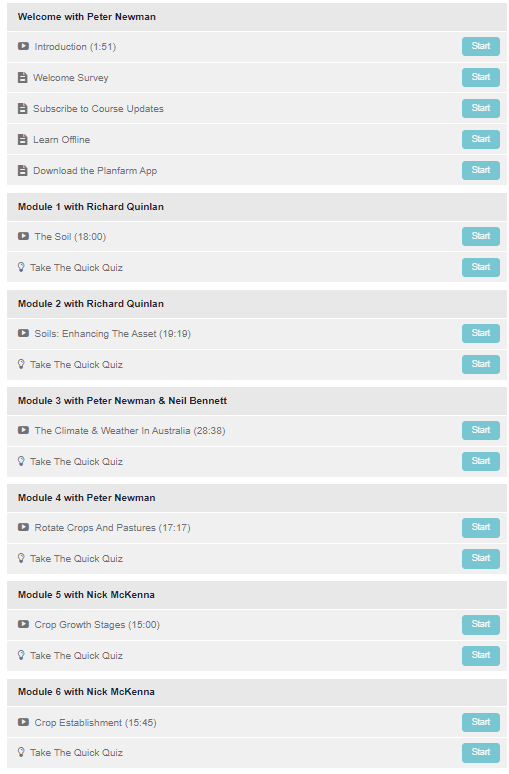 Discussion Session – August 7
There is no rush to complete the three hours of course content. However, those that complete it by early August will benefit greatly from the next live discussion session delivered by Planfarm on August 7. So complete your online modules by then to participate in this live session for the current cohort of those undertaking the curriculum.
Recordings of past discussion sessions are available should you miss the live one.

Who is it for?
All ages, genders and abilities, however it is best suited to the young to middle age farmer or agricultural industry worker who has not received formal agronomy training.
Whilst designed for people with no formal training in agronomy, fully qualified, practicing agronomists have also taken the course and loved it. The course will provide a greater understanding of broadacre farming agronomy delivered by experienced agronomists.
Registration
To opt into the Planfarm 50% discount offer email Kallista Bolton at GGA for the Planfarm coupon code to purchase your enrolment.
Enquiries
For clarification around this offer contact Kallista Bolton at GGA on 0421 623 406.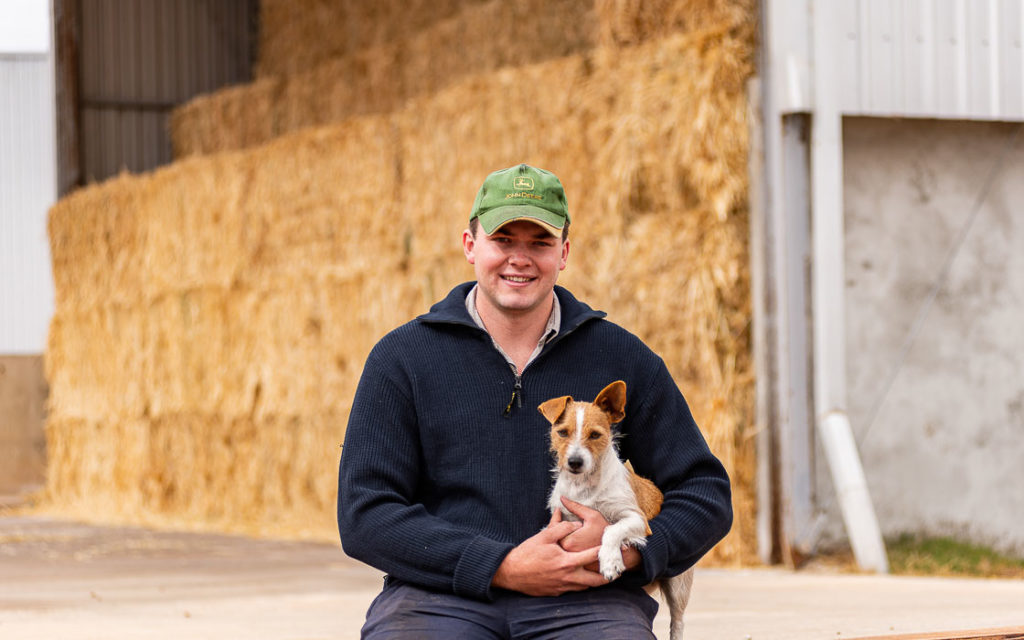 GGA network eligibility
GGA network groups eligible for the coupon code are listed below.
Agricultural Women Wheatbelt East (AWWE)
AgZero 2030
Association for Sheep Husbandry Excellence Evaluation & Production Inc (ASHEEP)
Australian Association of Agricultural Consultants (AAAC WA)
Bee Industry Council WA (BICWA)
Broomehill Cropping Group
Bruce Rock Land Conservation District Committee
Carnarvon Rangelands Biosecurity Association Inc
Central Wheatbelt Biosecurity Association
Certified Organic Biodynamic Western Australia Inc (COBWA)
Compass Agricultural Alliance
Corrigin Farm Improvement Group
Dumbleyung Land Conservation District Committee
Eastern Wheatbelt Biosecurity Group
Esperance Zone Innovation Group (EZI)
Facey Group
Far Eastern Agricultural Research Group (FEAR)
Fitzgerald Biosphere Group
Future Food Producers Group
Gascoyne Catchments Group
Gascoyne Food Council Inc
Gate 2 Plate Inc.
Gillamii Centre
Goldfields Nullarbor Rangelands Biosecurity Association Inc
Grain Industry Association of Western Australia Inc (GIWA)
Hills Orchard Improvement Group
Holt Rock Group
Jerdacuttup Top Crop and Pasture Improvement Group
Julianne Hill
Kimberley Pilbara Cattlemen's Association
Lakes Grower Group
Lakes Information & Farming Technology (LIFT)
LIEBE Group
Living Farm Grower Group
Lower South West Grower Group
Merredin & Districts Farm Improvement Group (MADFIG)
Mingenew Irwin Group
Moora Miling Pasture Improvement Group
Morawa Farm Improvement Group
Mortlock Ag Focus Group
Mullewa Dryland Farmers Initiative
Noongar Land Enterprise Group
North Stirlings Pallinup Natural Resources
Northern Agri Group
Northern Australia Crop Research Alliance Pty Ltd (NACRA)
Northern Biosecurity Group Inc.
Nyabing Farm Improvement Group
O'Connor Research Group
Oil Mallee Association of Australia
Peel Harvey Biosecurity Group
Ravensthorpe Agricultural Initiative Network (RAIN)
RegenWA
Rural Edge
Society of Precision Agriculture Australia (SPAA)
South East Premium Wheat Growers Association (SEPWA)
South West NRM
Southern Biosecurity Group
Southern Dirt Incorporated
Southern Forests Community Landcare
Southern Forests Food Council
Southern Rangelands Pastoral Alliance
Stirlings to Coast Farmers
Sweeter Banana Co-operative
Three Springs Farm Innovation Network (3FIN)
Toodyay Agricultural Alliance
Torbay Catchment Group
TrialCo Pty Ltd
Turf Growers Association of Western Australia (Inc.)
vegetablesWA
WA Citrus
WA Future Food Network
WA Hemp Growers' Co-op Ltd
WA No-Tillage Farmers Assoc (WANTFA)
WA Regenerative Livestock Producers
Wagin Woodanilling Landcare Zone
West Midlands Group
Western Australian Livestock Research Council (WALRC)
Western Australian Lot Feeders Association
Western Beef Assoc Inc
Wheatbelt Integrity Group (WIG)
Wines of WA
Women in Farming Inc
Yuna Farm Improvement Group
---
Collaborators
---