Via GGA, the WA grower group network have been invited into a a fully funded eleven month extension skills training program available to grower groups Australia wide as part of a collaboration of the National Grower Group Collective, a collective of interstate grower group bodies.
The project is led by the South Australian Ag Excellence Alliance with the coursework delivered by extension training specialists Jeanette Long and Danielle England.
A cohort of 14 WA participants (13 from grower groups) completed the 11 month 2021 program.
Background
The project aims tol build grower group capacity by developing and implementing a national strategic approach to more effectively deliver extension that drives the adoption of innovation and sustainable farm practices in broadacre agriculture.
Supporting the capacity of these groups is essential for the continued delivery of applied research and extension, and in supporting practice change on-ground. Highly skilled grower groups are well placed to engage with NRM and industry R&D organisations.
This proposal takes a bottom-up approach, ensuring engagement by delivering through established networks and allowing activities to be targeted to regional needs. Further, it supports those who are already engaged in 'helping themselves' to improve adoption of new technology and extension services in their community and their farm businesses.
A more effectively coordinated, networked and skilled broadacre national grower group collective, well-placed to deliver high impact national investment of RD&E driving on-farm innovation and adoption of sustainable practices by:
Developing and implementing a national extension strategy for broad acre/ mixed farming agriculture
Developing and delivering a national capacity building program to increase the long-term sustainability and effectiveness of grower groups to deliver innovation to the farming sector
Intake 2 – Training Program 2022
A second extension training course intake is open for grower groups from 26-28 October. This Adelaide run extension is a repeat of the 2021 run program in which 14 WA delegates participated. Participants can attend all three days, days 1 and 2 or day 3 as a stand-alone. Training is facilitated by Jeanette Long and Danielle England. There is no cost to participate other than your travel, accommodation and meals.
Program
Introduction to extension design and practice
October 26 | Lakes Resort, West Lakes | 9 am – 5pm
October 27 | Lakes Resort, West Lakes | 9 am – 4pm
Facilitating learning/change
October 28 | Lakes Resort, West Lakes | 9 am – 4pm
Intake 1 – Training Program 2021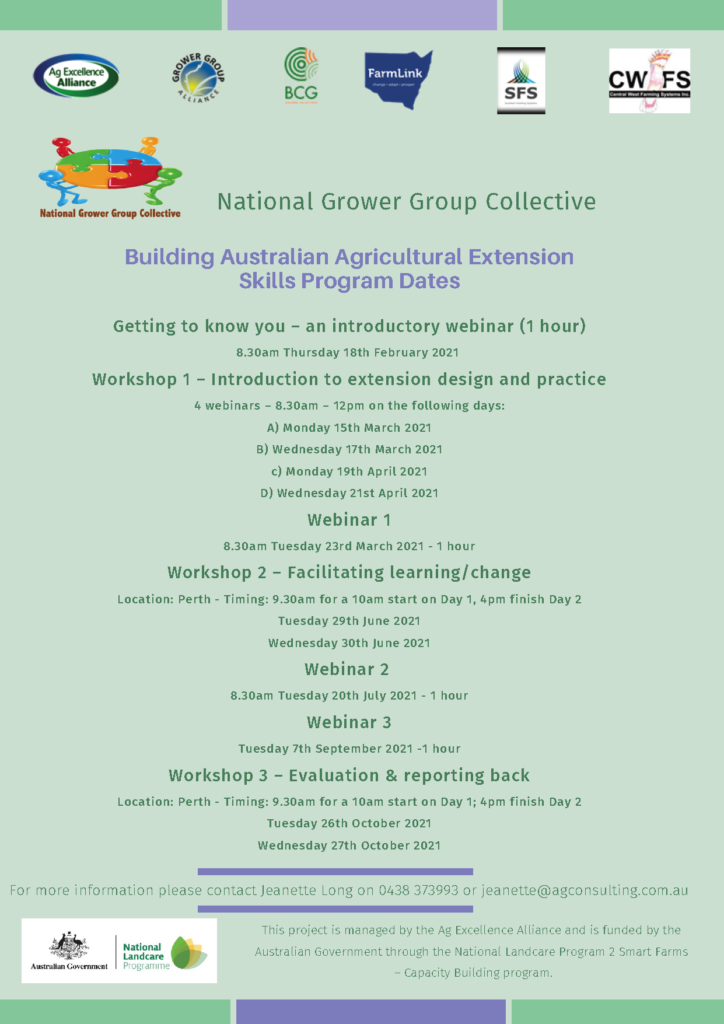 Program Overview