GGA will collaborate with grower groups, DPIRD and consultants on this $210,000 project to extend and apply outcomes of previous frost research and development (R&D) investments plus share and build knowledge to inform grower and advisor decisions relative to event responses. A priority is growers inexperienced with frost and underprepared to manage the effects on their profitability.
2021 Frost ID 'Pop-Up' Field Walks
15 September 2021, 10am at Bencubbin, 3pm at Nungarin | Host MADFIG
30 September 2021, in Yilgarn area (venue TBC / details to come)
Frost Resources
Extensive resources for technical frost management are available through DPIRD and GRDC .

Field Day Presentations
During the 2021 growing season, experienced frost consultants can be arranged through the Grower Group Alliance for a "pop-up" paddock walk or to address field days in localities that have suffered significant frost events this season. The experts are able to share knowledge to inform grower decisions relative to frost events. The priority for this free service is growers in localities that are intermittently affected by frost, who are inexperienced or under-prepared to manage the effects on their profitability

Contact
To inquire about a post frost event 'pop up' paddock walk or a field day presentation contact:
GGA Program Manager Mark Holland: 0429 202 393 | mholland@gga.org.au
Frost tracking Data
2021 September 1-13 Frost Data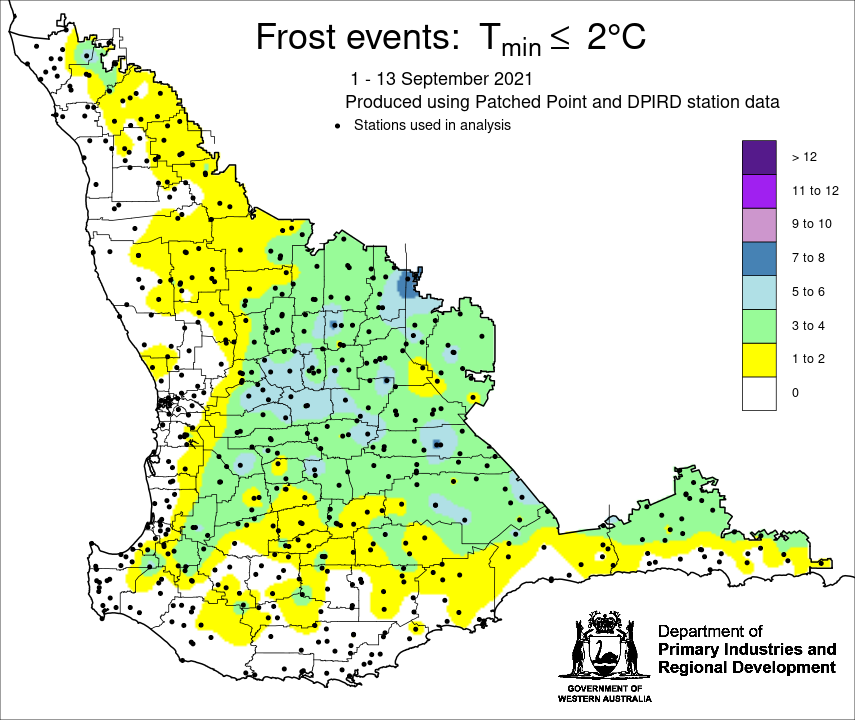 September Frost Data Benchmarks
Left | 2016 September frost events, the worst frost season in 45 years.
Right | September average frost events over 45 years. Interpretation – darkest purple >10 means greater than 10 events
Frost ID and Management Resources
More DPIRD resources at Season 2021
45 Years of Historic Frost Records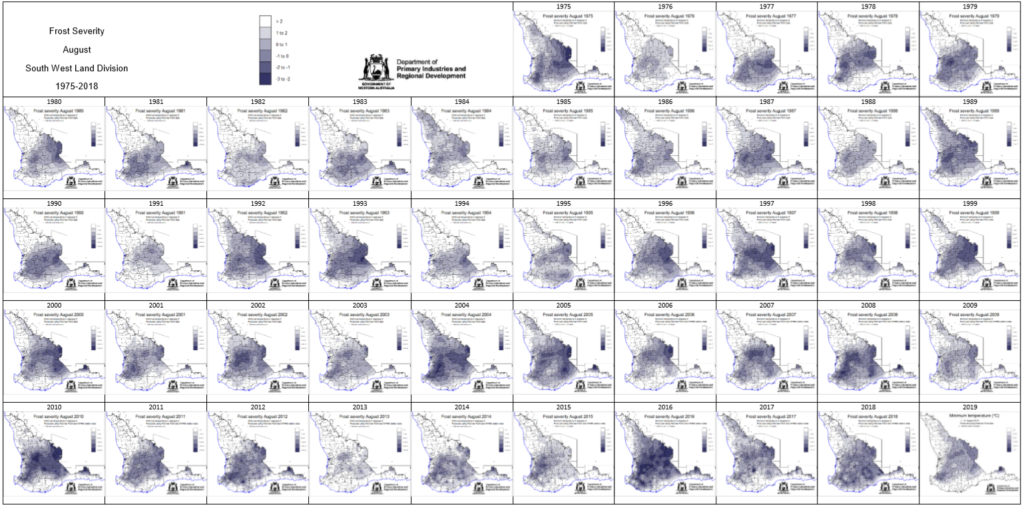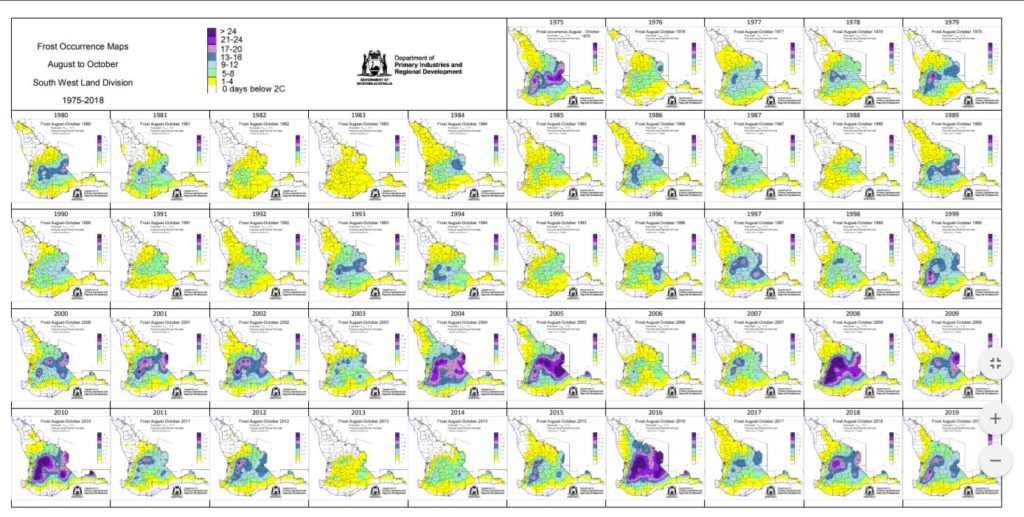 Frost tracking 2020
August – October 2020
2021 Pre-seeding workshops
In the 2021 season, growers were supported with a series of pre-seeding workshops/presentations hosted by grower groups in 9 regional locations. The latest research and strategies to minimise the impact of frost on profit was presented and participants had the opportunity to develop their own personal 2021 frost management plan with input and guidance from experts attending.
---
Project Collaborators
---
Partners: GRDC, DPIRD, Tarwonga Pty Ltd, (Combined Garren Knell/ConsultAG), Combined Agronomic Service, Facey Group, FBG, STC, MADFIG, SEPWA, LIFT, Holt Rock Group, Southern Dirt.