A newly launched project, FEED365 aims to re-design livestock forage systems for grazing all-year round in Mediterranean environments minimising supplementary feeding. The focus is sheep grazing systems in Southwest WA challenged by climate change with increasingly hotter, drier and more variable seasons.
GGA is collaborating with the Department of Primary Industries and Regional Development (DPIRD) on the FEED365 Project, co-funded by DPIRD and Meat and Livestock Australia (MLA).
A range of novel pasture and feedbase options will be evaluated in species mixtures under grazing, particularly to target key seasonal feed gaps, before the growing season and at the end of the growing season.
Research will initially commence at the DPIRD Katanning Research Facility then expand to grower groups in a participatory research process including on-farm demonstration sites. More details here.


EOI Trial Partners
The project team is seeking grower groups to host trials over the next three years. Successful groups will receive up to $20,000 per year over three years to host the trials. Enquiries on the trial EOI to Janet Conte, DPIRD, 0439 144 500, Janet.Conte@dpird.wa.gov.au
Field Day 13 October
The first information field day on the project was held at Katanning Research Station on 13 October, 2021 attracted around 45 participants, including seven grower groups. The event unpacked the FEED365 Project, which includes demonstration trials hosted by grower groups over the next three years. Small trial plots and larger grazing trials were on display, with a range of shrubs, perennial and annual pastures and legumes.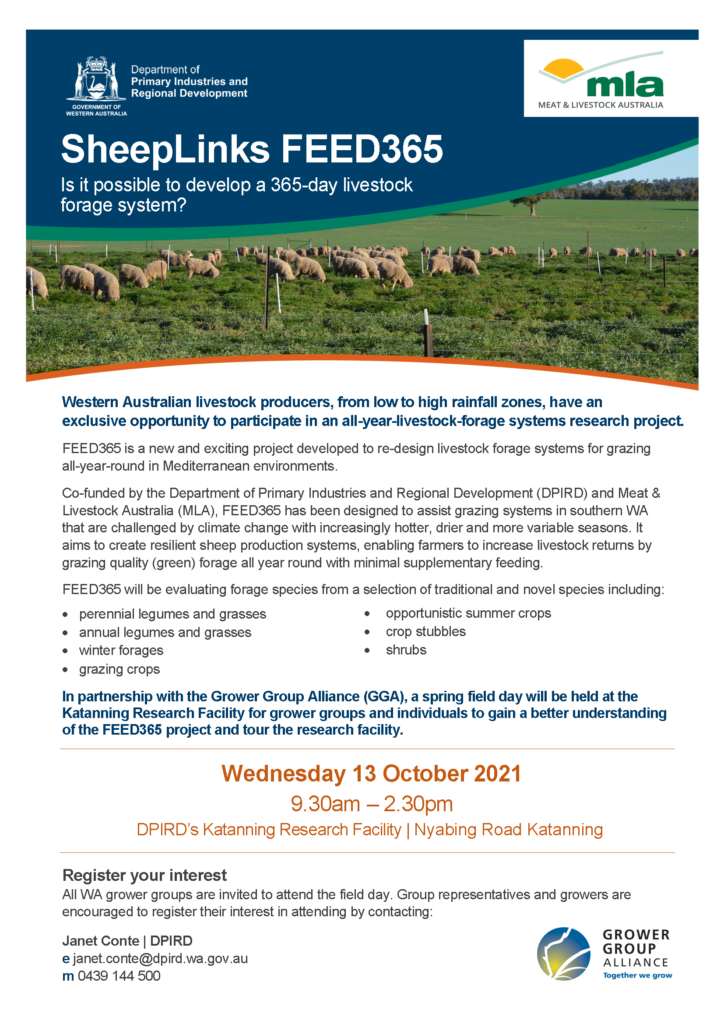 Contact
General project enquiries to Tanya Kilminster at GGA
---

Collaborators
---