Lift Off' is a new two-day training retreat for the Grower Group Alliance network, building capacity and connections for the year ahead. To be held at Joondalup Resort on February 1 and 2, 2022, the program will be available as a face-to-face residential or via zoom dial in.
GGA 'Lift Off' training retreat will deliver training on high priority needs as identified by GGA members via our annual capacity building survey. The event is exclusive to the GGA Network with tickets heavily subsidised by GGA to support capacity building.
The two days will be broken into half day sessions delivering on a mix of specialist topics with breaks and evening allocated for networking and building relationships with potential collaboration partners.
An exclusive Executive Officer working dinner will be held on Tuesday 1st February which has also been identified as a priority by grower groups.
Program
---
Optional Arrival Mon 31 Jan
Checkin from 2pm | Casual catchup & dinner at own pace
For those wishing to travel in the day before we have included a nights accommodation but dinner will be at own arrangements as arrivals will be staggered. Delegates can eat on the road or at the resort after checkin (kitchen close 6.30pm).
Casual pool-side catch up and meal (own expense) with Kallista Bolton from GGA and other early arrival fellow delegates at 6pm.
Included | Bed & Breakfast Accom in a private room with ensuite included (valued $189pp)/ Dinner own expense
Day 1 – Tue Feb 1st
Workshop 1 – 9.30am – 12.30pm – Membership Strategy Webinar 1 | Belinda Moore – Strategic Membership Solutions | In an encore appearance from Forum'21, Belinda will zoom dial in, presenting from Queensland. Over 2.5 hours she'll do a much deeper dive into membership strategy. This will actually be the first in a two part webinar series on the topic (with the second delivered on 8 Feb). See Speakers Outline below for further detail of this Membership Strategy webinar content.
Lunch – 12.30pm – 1.30pm
Workshop 2 – 2.00 – 3.00pm – Media Releases – with Natalie Lee GGA| Anatomy of a media release followed by delegates having a go at writing their own media release| 30 min content, 30 mins hands on learning. Bring your laptop.
Workshop 3 – 3.00pm – 4.00pm – Using Airtable – with Kallista Bolton GGA | Discover this powerful platform that GGA (and other grower groups) use to manage their member data base, manage projects, track member engagement and manage budgets. 50 mins content with Q&A along the way.
Workshop 4 – 4.00pm – 5.00pm- Mailchimp vs Campaign Monitor with Amber Atkins GGA | Need a solution for electronic communications to your membership such as for a newsletter or special event promotions? Amber showcases both Mailchimp (suitable for digital savvy) vs Campaign Monitor (better for learners in the digital space). 50 mins content with Q&A along the way.
Included |Lunch and break refreshments (valued $59 pp)/Bed & Breakfast overnight accommodation in a private room with ensuite included (valued $189pp)
Executive Officers Dinner
Dinner – 6.00pm – 9.30pm
Executive Officers Networking dinner hosted by GGA CEO Rikki Foss to allow EO's time to catch up, discuss common issues and build connections.
A more casual networking dinner will be hosted by GGA's Stakeholder & Communications Manager, Kallista Bolton for all other delegates.
Included | 3 course dinner (valued $75 per head)
Day 2 – Wed Feb 2nd
Workshop 5 – 9.00am – 12.00pm – R&D Trials – with DPIRD's Andrew VanBurgel and Steve Cosh| DPIRD experts in R&D Trials will take you through the latest best practice approach to Design, Implementation and Analysis| 2.5 hours content, 30 mins breaks. Bring your laptop.
Lunch – 12.00pm – 1.00pm
Workshop 6 – 1.00 – 4.00pm – Agronomy 'Big Tutorial' – with Planfarm | Planfarm agronomists will take us through a revision and consolidation tutorial of the 12 Modules in their Introduction to Agronomy course from their Planfarn academy. Those that have not engaged with the course will still benefit from the content | 2.5 hours content, 30 mins breaks. Bring your laptop.
Included |Lunch and break refreshments (valued $59 pp)
Tickets
Tickets are available for in person attendance of zoom dial in and are both heavily subsidised. The face to face program is valued at $871pp. Tickets are priced from $200 per person for the Grower Group delegates.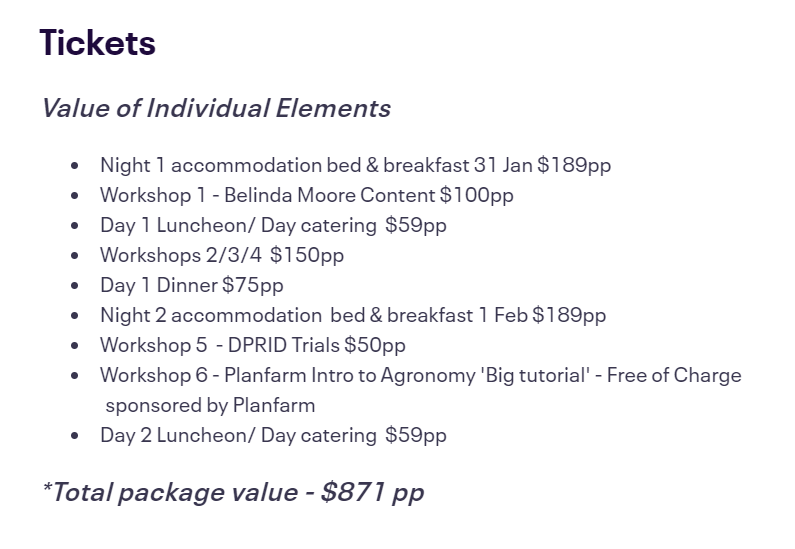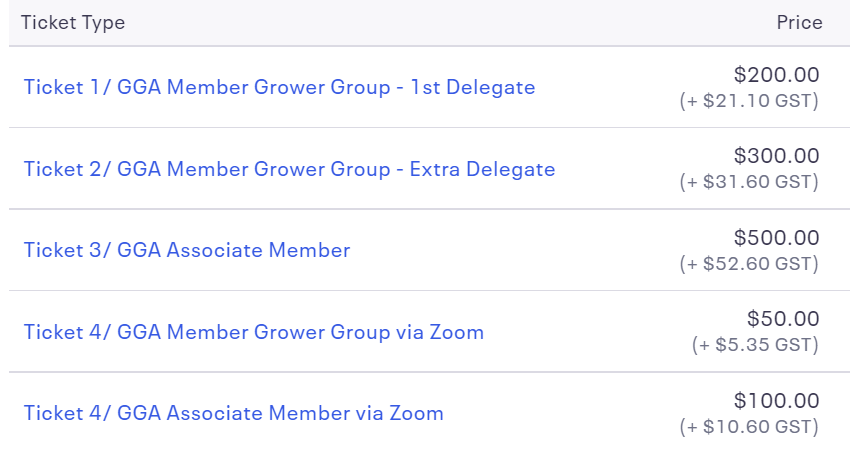 Guest Speakers
Click through to Eventbrite registration ticket site for Speaker Bios.
Apart from Belinda Moore who is based in Queensland who will zoom in, all speakers are local and will present live.
All speakers have been included for their specific current working expertise in these areas
______________________________________________________
Belinda Moore | Strategic Membership Solutions – Delivering a two part webinar series combining Membership Strategy – Membership Trends and Tips, then the Membership model audit with the member value framework.
Webinar 1 (1 Feb)
A Guide to Creating A Practical and Realistic Membership Strategy – A great membership strategy articulates a compelling membership goal and maps a clear pathway detailing how the association will reach that goal. It is an excellent tool for focusing your time and financial resources towards a logical series of activities that will ensure strong results. Delegates will leave this session armed with tips for maximising the success of their membership efforts – and a draft membership strategy they can start applying immediately.
Webinar 2 (8 Feb, outside of 'Lift Off' retreat program)
A Practical Guide to Ensuring Your Membership Model Delivers Powerful Value – Delivering powerful, compelling, and sustainable value to members doesn't happen by accident. Many factors influence how successful you are at recruiting, retaining, and engaging members. The most fundamental is your Membership Model. Your Membership Model is the foundation upon which all aspects of your membership program – as well as the majority of your association operations – are built. Register for this webinar if you are interested in learning about:
• Characteristics of successful membership frameworks,
• Trends & types of membership frameworks,
• Developing membership categories & pricing,
• Creating a compelling value proposition, and
• Aligning value, benefits, and features to each category.
Delegates will leave this session having been given the tools to undertake a Membership Model Audit and having developed their own draft Member Value Framework.