This project aims to establish baseline measures of harvester grain losses, support growers with machinery decisions to mitigate losses, share insights gained from the project and identify continued research needs.
A GRDC funded project, GGA will collaborate with grower groups and consultants in all phases of the project. Origins of the project stem from findings by agricultural consultancy Planfarm reporting an astounding $90 million worth of canola is estimated to be lost from the back of harvesters yearly in Western Australia.
Visual assessment of grain on the ground does not provide the accuracy needed for informed decisions about machine setup and setting changes. The importance of using drop trays to determine losses and calibrate loss sensors is critical and this has not been consistently implemented by growers under timeline pressure to get crops successfully harvested.

Activities
Sample and measure harvest losses from 75 sites across all WA grainbelt port zones covering major species (wheat, barley, lupin and canola) and minor crops (oats, lentil, field pea, faba bean and chickpea) and record harvest losses before and after adjustments from the front and rear of the harvester.
2. Analyse the data collected and establish indicative baseline harvest loss parameters for each crop across port zones. 
3. Train and equip sampling teams with drop pans to safely take measurements in a consistent manner across the State, use the BushelPlus app to record data and develop a decision support tool to assist growers and staff to adjust machinery settings.
4. Promote the outcomes of the study through crop updates, local grower group peer-to-peer learning forums and GRDC and Grower Group Alliance (GGA) communications channels.
5. Recommend future research needs.

News and Updates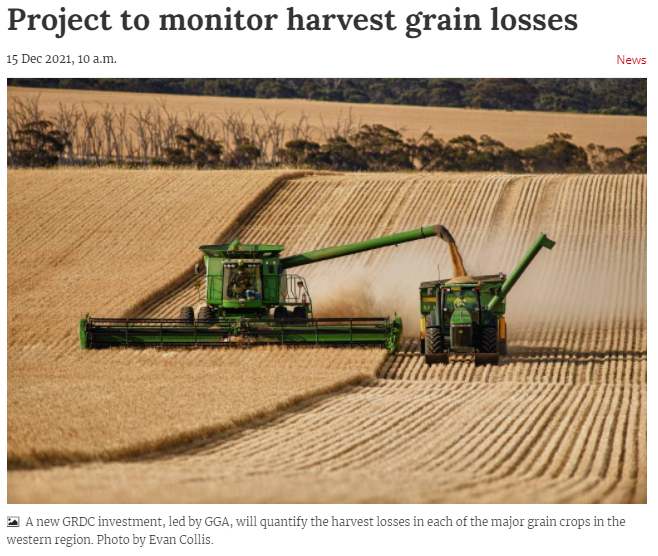 Contact
Enquiries to Mark Holland at GGA
---
Collaborators
---